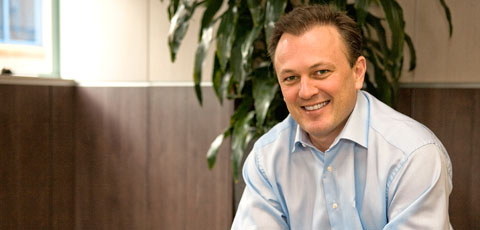 Pat McCarthy has grown his business from one office in Cronulla to an operation that covers the entire Sutherland Shire. Always challenging himself and his business on ways to grow or do things better, here are Pat's thoughts on the current state of the real estate market.
Aaron David (AD): Pat, what is your view of the market today?
Pat McCarthy (PM): I think it's getting harder and harder to run a business as a traditional model or the Ma & Pa corner store operation. We operate over a territory of 80,000 residences and the internet allows that. Traditionally, you would have had 10 offices to handle that size of territory; with the internet, you could probably have one large one. However, we'll have 4 or 5 offices instead of 10, and maybe in the future that will only be 2 or 3. That's not from a customer perspective; it's from the agent's: they'll want a base that's a bit closer to their stock. Although we could handle property anywhere within the Shire from Cronulla, we think we need a few bases for our agents to cover our client and customer needs. Also, as time management for the agents, it's more effective
AD: What is the biggest challenge facing your business today?
PM: The biggest challenges are always recruitment and productivity. They're what we're always thinking about and constantly working on: How do we get the productivity up of our current team and how do we get more good people into our business? There's no magic answer. It's a long-term view and it's constant. There are always a certain amount of people that come in and out of the industry and we have to keep on top of churn. We know that if we wanted to grow by 10 people, we'd have to recruit 14.
AD: What is the biggest opportunity for your business today?
PM: Because it is getting harder to run as a small operator, the opportunity for us is those people that have recognised that it's too hard or too expensive operate by themselves, and they can come on board with us as a partner in a contracting role. The way we've set up our model allows those people to plug in, they can choose us as a partner and we want to be seen as the obvious choice for those people. I'd say 4 or 5 of our key people have come on via that way.
AD: Tell us about growth: acquisition vs. BDM.
PM: We don't see it as one or the other. We do both. If you get to be as big as we are, you need a good idea of your churn and you need a strategy in place to counter that churn. As we want to continue to grow, we've made quite a big investment in that. We've got 4 BDMs and are looking at possibly adding another. That's all because we know our churn could be up to 10%. So if one or two plug the churn then we've got two for growth. Combine that with good strategic acquisition and you gain the benefit of the extra cash flow that immediately adds to your business. So I see them going hand in hand.
AD: Let's talk print advertising vs. internet advertising only. How do you see this issue for businesses in real estate sales?
PM: That's a very tough one at the moment and it's tough because from a buying perspective, the internet is more and more effective – and cost effective. But I still think there's a place for print, so we still run with a combination approach. From a business perspective, you're brave to go internet-only at the moment. It will probably be the way of the future. However, a combination approach is currently the best way. Although it seems the internet is grabbing market share all the time, there's still a place for print.
We measure the effectiveness through our open houses, we ask those who come where they first saw the property. We believe there are passive and active buyers in the market. The active buyer is on real estate alerts and gets them every week. They're active in the marketplace, someone who may buy in the next 1 to 6 months.
Then you get the passive buyers who might flick through the paper whilst having a coffee and think "that looks like something I'm interested in". They're not active in the market – trawling through open houses or receiving alerts – but if they see the right thing then they're looking. Those people might see this in print, then go online to get more information about the property, floor plans and videos. So it works in combination.
What that can do though is make the reporting skewed; if you ask them where they saw the property they might say the internet. However, they may have first seen it in print and then investigated more via the net. When prompted, they remember.
Some of the data out there points to the internet as having captured over 90% of the traffic, but we don't find that to be true. The acid test for me is what would I do with my own house or my parents' house if it were to go to market. The answer is, it's a combination of print and internet. You want all those channels working for you, and if it means one extra buyer on your property, you'd be crazy not to use them.